LiquidLipo™ | Non-Surgical Liposuction
LiquidLipo™ is a non-surgical alternative to liposuction. The main ingredient in LiquidLipo™ is phosphatidycholine. Phosphatidylcholine is a natural product found in our body. Its main role in the body is to help emulsify and breakdown fat and cholesterol and is a key constituent of our cell membranes and high density lipoproteins (the good cholesterol). The phosphatidycholine that is used is derived from soybeans and has the same molecular structure as the phosphatidycholine in our bodies.
When injected directly into fat deposits, LiquidLipo™ helps breakdown and emulsify the fat deposits. It uses the body's own natural methods of excreting fat to permanently reduce fat deposits.
LiquidLipo has two ends that act like the ends of a magnet. One end is attracted to water, and the other end is attracted to fat. After injection, phosphatidycholine surrounds the fat cell, and because of this property, it allows the fat cells to become emulsified and soluble in the circulation where it is then removed perma- nently by the liver, bowels and kidneys.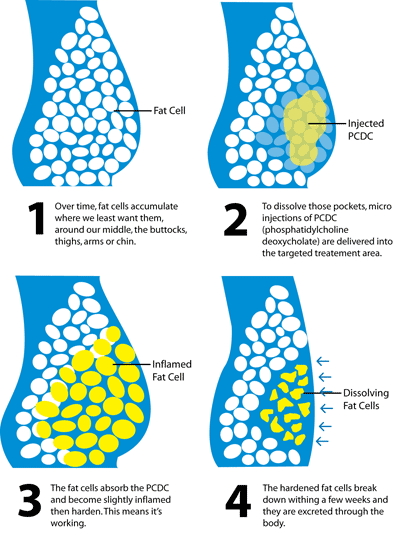 Both men and women who have pockets, or areas of stubborn fat that is concentrated, particularly in areas such as double chin, abdomen, pecs, "love handles", thighs and legs can benefit from LiquidLipo™. Fat dissolving treatments should not be regarded as a new miracle for weight reduction. However in the case of fat deposits, which cannot easily be removed by diet or exercise, then this treatment helps the natural metabolic process during which fat is melted away and then eliminated from the body.
This treatment is extremely promising from a safety aspect. With thousands of procedures performed, there have been no reports of adverse complication or permanent or life-threatening side effects from the therapy. Studies and continued monitoring of effects supports a stable safety data of this procedure and long-term studies are needed. Rare, but possible risks can include adverse allergic reaction against the medications used.
LiquidLipo™ safety should not be confused with other procedures for fat reduction where medications that pose high risks are used. LiquidLipo™ contains a standardised mixture of 4-5 pharmaceutical agents. When used in accordance to treatment protocol without alteration, by a licensed physician, have shown a stable safety report.
Our Commitment to Safety.
All our LiquidLipo™ treatments are administered by highly experienced Cosmetic Doctor, who is recognised for her meticulous skill and reputation for being a leading cosmetic injector who has performed many LiquidLipo™ treatments with great results. We do not use nurses or any one else who cannot provide only the very best results.
Why choose Advanced Dermatology as your provider of LiquidLipo treatment?
At Advanced Dermatology, we have available a multitude of lasers and treatment modalities, each one suited to a different purpose. This can help to optimise your treatment to be safer and more specific to your concerns. We are a global authority in the treatment of facial problems and body countering with over 26,000 skin rejuvenation and non-surgical skin tightening procedures performed to date.
Find out more about this treatment.
Making that first phone call about any cosmetic procedure can be a confronting task. We know that well and have a number of ways to ensure the process is as convenient and comfortable for you. You can book online through our website or call us on 1300 788 800 for a complimentary over the phone consultation with one of our friendly staff.  Your first step to having the body you deserve  starts here and we look forward to helping you achieve your body goals.