Fractional Laser Treatment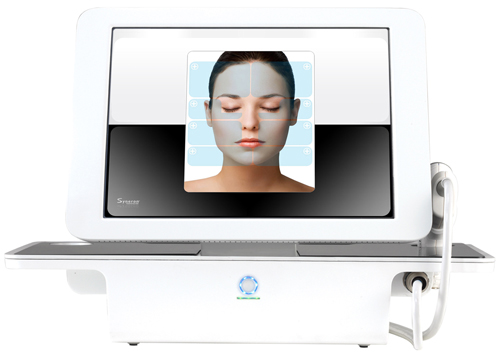 What is the The Fractional Resurfacing treatment?
Based on proven fractional technology, Sublative Rejuvenation with eMatrix is a unique procedure which uses radiofrequency to deliver an effective but controlled ablative and non-ablative fractional treatment for all your skin concerns. Watch as each day after treatment the entire area transforms to reveal the incredible results from reduced pigmentation, softening of lines to reveal a complete rejuvenation. This will give your skin back its WOW factor. Sublative is perfect for patients who want the most cutting-edge treatment to fight the signs of ageing. As a true fractional treatment it is safe and effective, but also gentle and affordable. With minimal downtime, Sublative Resurfacing treatments fit perfectly into a patient's busy lifestyle as an effective treatment to erase many years of past damage.
Sublative Rejuvenation is a non-invasive treatment that does not require injections. The laser stimulates the patient's own collagen to remodel and restructure and does not rely on temporary substance filler.
How do I know if I need Sublative Resurfacing?
Patients looking to reduce fine lines, wrinkles, skin laxity or scarring with minimal downtime are good candidates for this procedure. You should not have Sublative Rejuvenation if you are pregnant. In addition, patients with pacemakers, internal defibrillators, or metal implants in the area of concern should not have these treatments. Patients who have diabetes, autoimmune disease or have had injectable fillers in the area to be treated (need to wait one month after fillers) should let us know prior to having Sublative Rejuvenation.
The cost of Sublative Rejuvenation is based on a recommended treatment plan. There are three different treatment protocol settings and the best measure will be discussed with you during your consultation. Treatment usually costs between $1,200-$1,600 per treatment for Sublative Rejuvenation.
Our Technology in the Press!

Our Commitment to Safety.
The Sublative Resurfacing™ is the only treatment of its type approved for its safety and effectiveness by both the FDA (Food and Drugs Association) and the TGA (Therapeutic Goods Administration). The Sublative Resurfacing™ is administered by highly experienced Aestheticians trained in the field of medical lasers and because of this there is little or no risk of serious complications the Sublative Resurfacing™ treatment.
What results should be expected with Sublative Resurfacing?
You can expect two levels of results, immediate and progressive. Immediately after the initial healing is complete, the surface of your skin will feel softer and look brighter with a noticeable reduction of fine lines and acne or other scarring. Progressive results occur over the next 3-6 months as the deeper layers of skin continue to heal. You will see that each day after treatment the entire area transforms to reveal the incredible results from reduced pigmentation, softening of lines to reveal a complete rejuvenation.
Why choose Advanced Dermatology as your provider of laser treatments?
At Advanced Dermatology, we have available a multitude of lasers and treatment modalities, each one suited to a different purpose. This can help to optimise your treatment to be safer and more specific to your concerns. We are a global authority in the treatment of facial problems with over 26,000 skin rejuvenation and non-surgical skin tightening procedures performed to date.
Find out more about this treatment.
Making that first phone call about any cosmetic procedure can be a confronting task. We know that well and have a number of ways to ensure the process is as convenient and comfortable for you. You can book online through our website or call us on 1300 788 800 for a complimentary over the phone consultation with one of our friendly staff.  Your first step to restoring youthful skin starts here and we look forward to helping you achieve your skin goals.